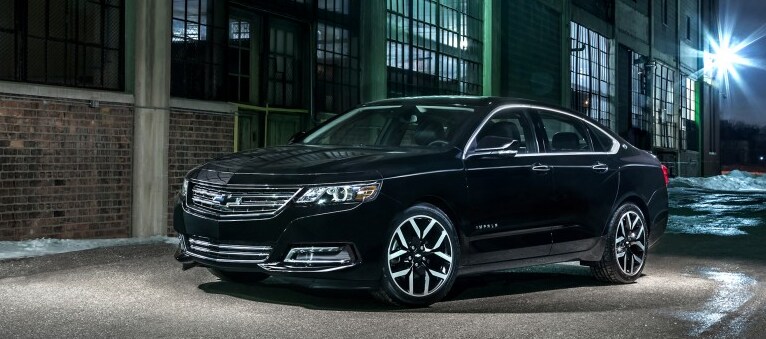 When is a black car more than just a black car? The Midnight Edition of the 2016 Impala, available at our Cincinnati Chevrolet dealer this summer, is the answer. Available on the LT and LTZ trim levels, the Midnight Edition Impala is a striking addition to an already impressive line of vehicles.
Aerodynamic Twilight
Cloak your dramatic entrance in darkness as you glide along the streets with the available 305 horsepower V6 engine growling under the Jet Black hood. Already a sight to behold in any color, the Jet Black tone deepens the effect, topped off with a black rear spoiler so that when you feel the considerable torque as you accelerate, you know you're doing it as efficiently as possible.
A Shadow In Motion
Imagine the distinctively aerodynamic carvings of the 2015 Chevy Impala Midnight Edition navigating Cincinnati streets, its sweeping lines defying the capabilities of the average full size four-door sedan. Gleaming 19-inch aluminum wheels accented in black will catch the light of the passing landscape, with headlamps and back lights beaming out of a shadowy silhouette.
Even the emblem has gone dark for this edition: the signature Chevrolet bowtie is black on both the front and rear ends, encased by a black grille and surround. This car reaches that precious balance of elegant and formidable, never tipped in one direction or another.
This is just one more step in the ongoing evolution of the Impala. Since its 2014 redesign, this sedan has taken its place in the upper echelons of the automotive industry, receiving accolades such as the Best Car of 2014 from Cars.com.
Stop by our dealership or call us at (888) 403-3630 for more information about test drives and the arrival of Midnight Edition of the Chevrolet Impala.