Sports car enthusiasts are used to being presented with street cars that are tamed-down versions of what you'd find on the track. However, the 2017 Chevrolet Corvette Grand Sport puts that to rest with a car that is described by its chief engineer, Tadge Juechter, as "not race-inspired. It's race bred." Our Cincinnati Chevrolet dealer has all the details on this magnificent new ride and its spectacular power!
Supersonic Sophistication
The 2017 Corvette Grand Sport is designed for the luxury car lover with a taste for the track. A number of comfort-oriented amenities not usually found in sports cars, such as available heated seats, are just as important to the ride as all 460 horsepower. This evolution of the 2017 Chevy Corvette Grand Sport in Cincinnati has been decades in the making, and this one strikes the perfect balance that will hit the spot for every driver who doesn't want to give up creature comforts to hit 60 miles per hour in three and a half seconds.
The underpinnings of this dedication to comfort is found in the Magnetic Selective Ride Control with Performance Traction Management, which allows you to pick which drive mode best fits your current situation (or your mood). It changes the tuning of the suspension, torque, and brake intervention. Between that and the range of looks you can implement within the sporty interior, you can truly have a customized driving experience with this Corvette.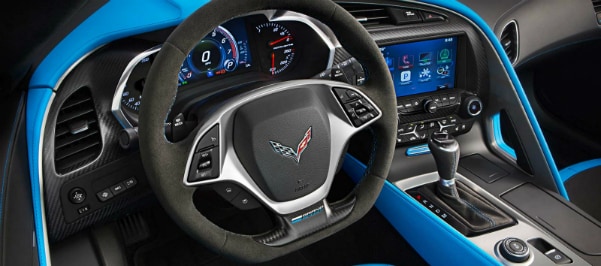 The Pragmatic Powerhouse
Even more pleasing is the news that the days of sacrificing efficiency for power are long past. The 2017 Corvette Grand Sport comes equipped with an Eco drive mode, which shuts off half of the cylinders of the V8 engine once you reach cruising speed. This is a great way to tear apart the roads the way the 2017 Chevy Corvette Grand Sport was meant to do without tacking extravagant expense onto your ride.
For the sports car fans who have eagerly awaited the seventh-generation Corvette, the Grand Sport will certainly not disappoint. Offering a drive beyond compare with comfort that simply can't be found in other models, it leaves the competition in the dust. Visit Jake Sweeney Chevrolet today for a test drive!