Jake Sweeney Chevrolet

33 West Kemper Rd., Cincinnati, OH 45246

513-782-2826




Auto Spa & Accessories Shop

(One mile East on Kemper Road)

513-782-2899 ext. 3281

Service Hours:
Monday - Friday 7:30am to 6:00pm
Saturday 8:00am to 2:00pm

Parts Hours:
Monday - Friday 7:30am to 6:00pm
Saturday 8:00am to 12:00pm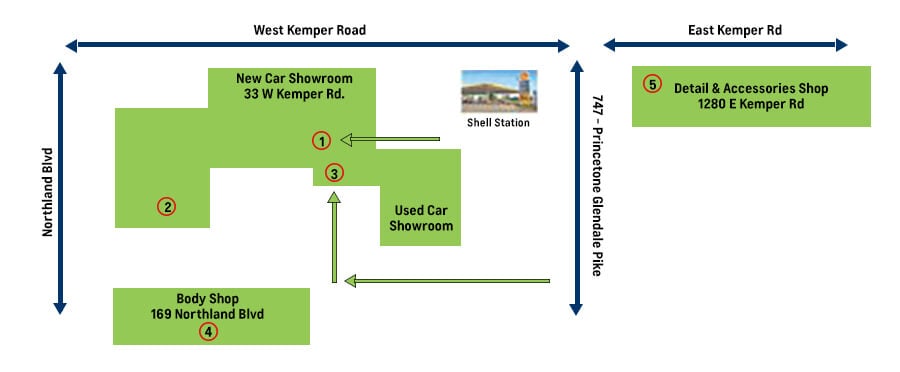 Map Key:
1. Chevrolet Service Entrance
2. Parts Department 
3. No Contact Service Drop Box
4. Body Shop
5. Detail and Accessories Shop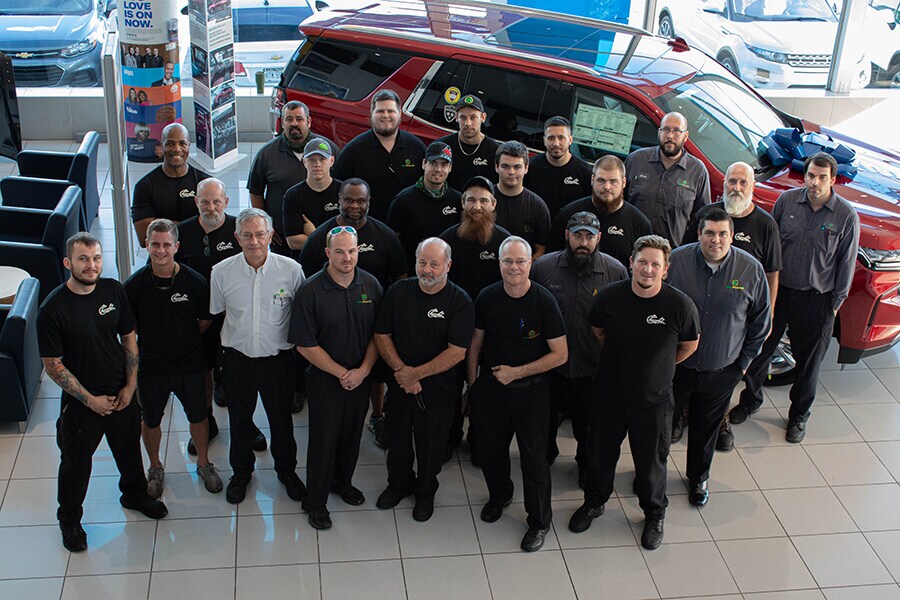 We have over 350 years of combined Service Technician experience. We service most makes and models including certifications from Ford, Mazda, Mercedes Benz, Nissan, and More. 
---
HOW TO USE THE NO CONTACT SERVICE DROP BOX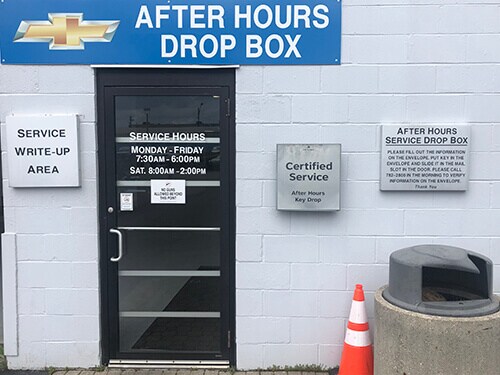 When coming in for service, we encourage you to use our no contact service drop box. To get to the drop box, you can take a right into the dealership from Princeton Glendale Pike, as shown on the map above. Make another right after passing the Used Car Showroom and you will be at the service dropbox.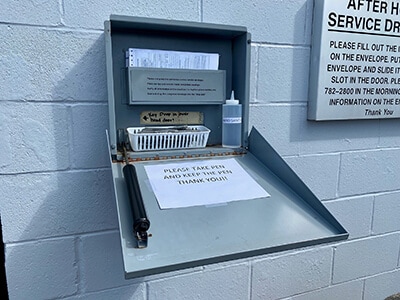 Once you arrive at the service dropbox, open it up and fill out the envelope provided. Place your keys in the envelope and slide the envelope in the mail slot located on the service garage door. We have provided hand sanitizer if needed as well as pens.
Please keep the pen you used.
Once in our care, we will put a protective cover on your vehicle's steering wheel, seat, and windshield wiper lever and place a disposable floor mat on the floor of your car. 
---
Q: What to I Bring to my Service Appointment?
A: When you come in to our Chevrolet service department, you will need to bring your driver's license, credit card, and your extended warranty contract when applicable.
Q: How should I schedule an appointment?
A: It is recommended that you use our online service scheduler. If you prefer to call, you can dial 513-782-2826. Press 1 for to schedule an appointment and 2 for any service questions you may have.
Q: Is there alternative transportation available?
A: Yes! Our shuttle service is available Monday through Friday within 10 miles of the dealership. We can also provide Chevrolet loaner vehicles and rental vehicles if a Chevrolet loaner vehicle is not available.
Q: What credit cards do you accept?
A: We accept most major credit cards such as MasterCard, Visa, and Discover.
Q: What do I do when my tire pressure monitor light comes on?
A: For purposes of safety, please do not ignore the monitor light. First, you need to check the pressure of each tire. If one is low, please bring the vehicle to the dealership and we will inspect your vehicle's tires for you.
Q: Is touch-up paint available for my car?
A: Yes, our parts department carries most colors in stock for your convenience.
Q: If I lose my car keys, how do I get a replacement?
A: Replacement keys are ordered using the vehicle identification number. Chevrolet guidelines require us to verify ownership; therefore; please bring proof of ownership such as vehicle registration and a picture identification. Keys are not returnable, so all key orders are prepaid.